Description

Personalised New Baby Teapot
Give The New Parents A Memory To Cherish
Every Time The Teapot Is Used, Great Memories Of The Birth Will Come Flashing Back
Beautiful stoneware teapot with the baby's name on one side and the date and year of the birth on the other side.  This makes the perfect sentimental gift that is sure to be treasured for years.
The teapot could also double up as the additions first room decoration as a memory of the special event.
Two sizes are available: small teapot (2 cup) or large teapot (6cup).
Choice Of Colours Available
This teapot design comes with a choice of colours: white (pictured), red, blue, green, blue, black, taupe & grey.
Each teapot design is individually hand drawn, so your teapot may vary slightly from the illustration but it will be of the same design.   Please note, if you select a darker colour for your teapot, a lighter colour will be used to create the design that best compliments the colour of the teapot.
If, however, you have a particular colour scheme or design in mind, please contact me below or email me at charlotte@handdrawnworld.com before purchasing.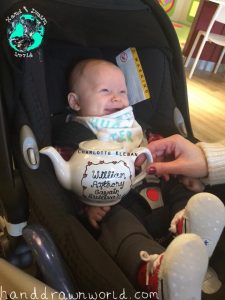 Add This Design To Others Products
I can create any a Personalised New Baby Design on a wide range of my products.  Please contact me below with your ideas.
More Information
For more information about any of my products, please contact me, below. I would love to hear from you.
Thanks for stopping by! Charlotte 🙂
Please Follow Me On Social Media