Welcome To My Exciting World Of Hand Drawn Every Day Things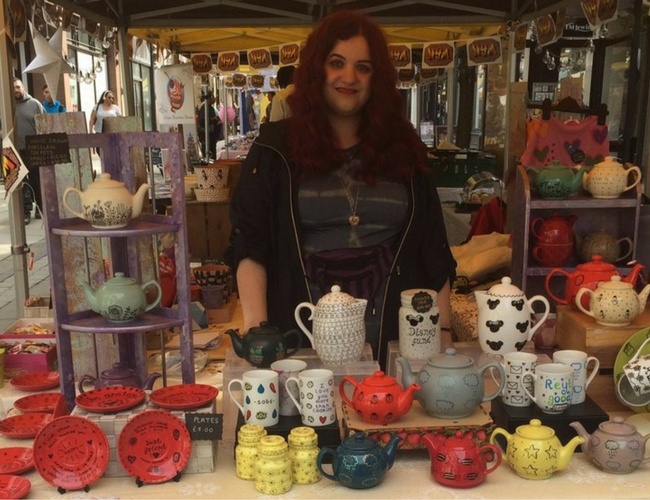 Hello, I am Charlotte
Hello, I am Charlotte Kleban, a Graduate Textile Designer from Manchester, who specializes in print design.
I studied Textiles at Manchester Metropolitan University, and my passion lies in creating new and interesting surface pattern designs by combining both hand drawn and photographic elements which make my designs look three-dimensional, whilst still keeping the hand drawn feel.
I Have Always Had A Love Of Drawing
I have always had a love of drawing since a young age, and after finishing my textiles degree, I wanted to put my designs out into the world.  I love how art can change a certain mood or atmosphere and be a talking point and I hope my patterns can put a smile on your face.
I feel very lucky to be able to do what I love for a living, and that is down to the lovely people who have bought my work ... it really does mean a lot to me.  It amazes me and pleases me how many people have my products in their homes or use and wear my things in their everyday lives.
That's all I have ever wanted 🙂
My Designs Have Been Well Received
In 2012, my work was included in an exhibition, "Tweet Me Up", at Tate Modern in London. I combined my love of music with textiles as I created embroidered song lyrics and shoes.
In 2013, I took part in "Pup Aid" in London, in which I raised £250 towards the prevention of puppy farming by selling my textiles designs.
In 2016, I designed and sold tour merchandise for ex X-Factor singer/songwriter, Laura White.
More recently, in September 2017,  I won  a Highly Commended Trader Award at the National Youth Market Awards in Manchester.
My Very Popular Products Are Hand Made & Hand Drawn
My very popular products featured on my website are handmade and all the designs are hand drawn by myself.
I create and sell a very wide range of items such as clothing, homeware and accessories and I would like to invite you to explore my products pages in my shop. 
Everything I sell is custom made, meaning I can create special, unique designs. If you would like me to create a special design for you, for yourself or for a gift, I would be very happy to discuss this with you.
Please contact me below.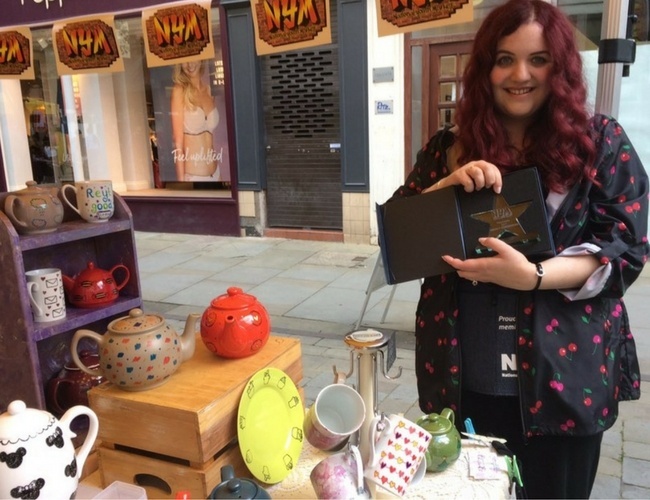 Here I am pictured receiving a Highly Commended Trader Award at the National Youth Market Awards in Manchester on 2nd September 2017. 
I am always creating new designs and new products, and I would love you to follow me on social media. You can see all my designs here:
All My Products & Designs Are Protected By Copyright
All my hand drawn designs and images in my shop and online are owned by and are copyright of Charlotte Kleban © all rights reserved.
Thanks for stopping by!
Charlotte 🙂
Please Contact Me Here
I would love to hear from you, so please contact me here: