Hand Drawn World Customer Reviews
Charlotte's Hand Drawn World products have been selling very successfully on Etsy for a few years and she has amassed a large following of very happy and satisfied customers in that time. Here you will see what some of them have to say about her products and her customer service.
Espresso Cups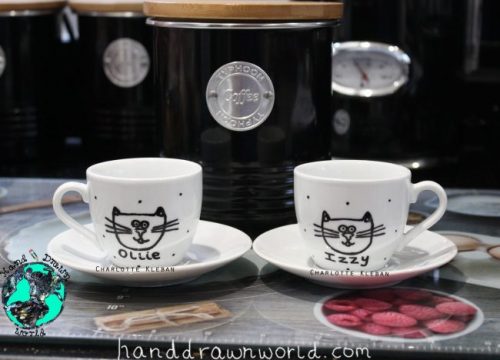 Elayne on Etsy, 21 Jul, 2020  ~

5 out of 5 stars
The Espresso cups were fantastic and Charlotte's customer service was quick, polite and helpful. 5 stars!
Decorative Plate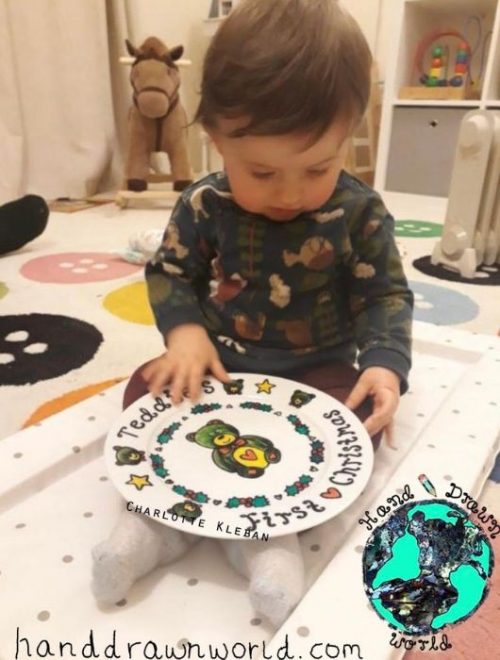 Ana on Etsy, 06 Jul, 2020  ~

5 out of 5 stars
Beautiful gift for a friend who loves tea, it arrived quickly, without any damages and nicely wrapped! I will definitely chose Charlotte's artistic work in the future!
Cats Design Teapot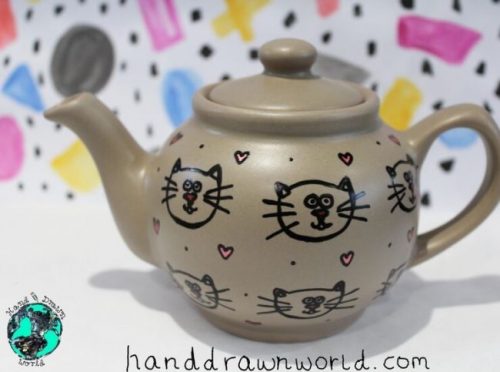 Andrea Piazza on Etsy, 11 Aug, 2020  ~

5 out of 5 stars
Charlotte's teapot is simply great. Her work is stunning and every bit as good as it looks on picture. I searched a lot on Etsy for the perfect teapot for my girlfriend, and this was the best choice I could make. The coloures and wonderful and the teapot is perfectly usable.
Plus, Charlotte was great during the whole process: I asked her if she could deliver the teapot earlier than indicated on her webpage, and she sent is as fast as she could - it's difficult to find such flexibility and generosity!
One quick suggestion: the small teapot is for 1/2 large cups, and it suited us very well; but If you drink a lot of tea go for the large one! 🙂
Tea Pot Set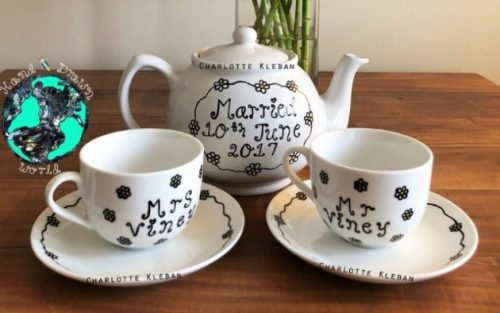 Kat on Etsy 12 Aug, 2020  ~ 

5 out of 5 stars
I ordered the daisy teapot and cups with saucers as a retirement gift for some married colleagues. Charlotte was super helpful and accommodating when I enquired about changing the wording to reflect this. It arrived promptly and well packaged to avoid damage/breakages. Unfortunately, due to COVID, I haven't been able to give the gift yet but I know it will be well received as it's so personal and pretty. Thank you!
Cats Design Socks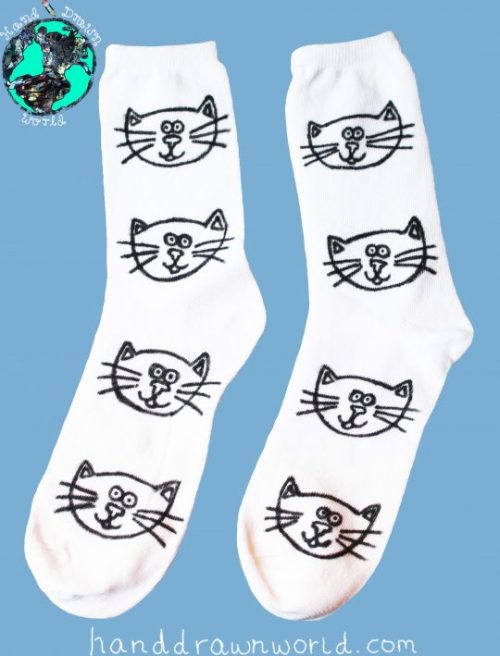 Dinner Plates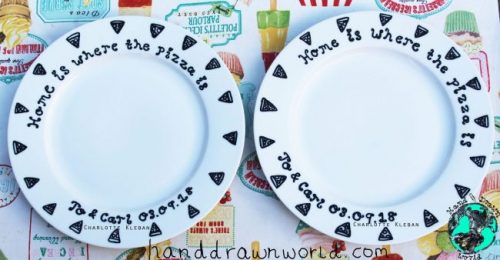 Sarah on Etsy 25 Apr, 2020  ~ 

5 out of 5 stars
Can't explain how good these plates are. Got them for my best friend as an engagement present, arrived much sooner than I thought and were wrapped super carefully!!
Constellation Teapot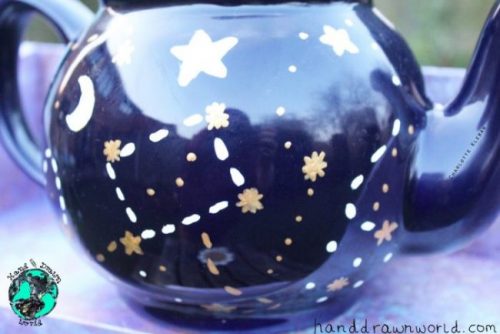 Zoe James on 13 Aug 2019 on Etsy  ~  5 out of 5 stars
So we accidentally broke our first one; the tray we were carrying it on decided to give way without any prior warning and my husband (who I had given it to as a gift) was distraught 🙁 I left a little note for Charlotte who not only repeated the order a little faster for me and left the gift note I had requested, but left her own little note which nearly brought my husband to tears. Cannot rate the customer service highly enough and again the quality of the teapot was spot on!!
Bowls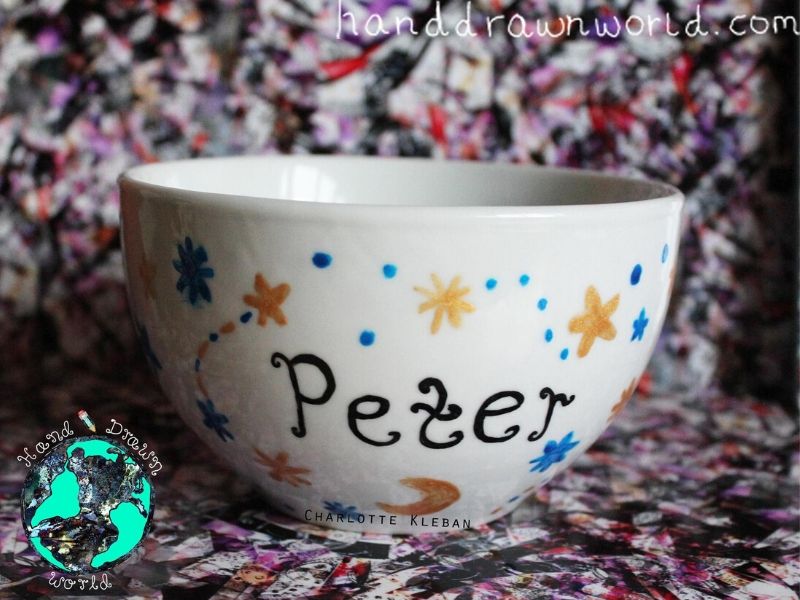 Lucy on Etsy, 02 Feb, 2020  ~

5 out of 5 stars
Absolutely lovely, cute bowl. Perfect personalised gift for my colleague that eats a lot it soup!!! Was delivered in great packaging....I didn't need to wrap it! I will definitely be coming back for more gift ideas.
Pizza Socks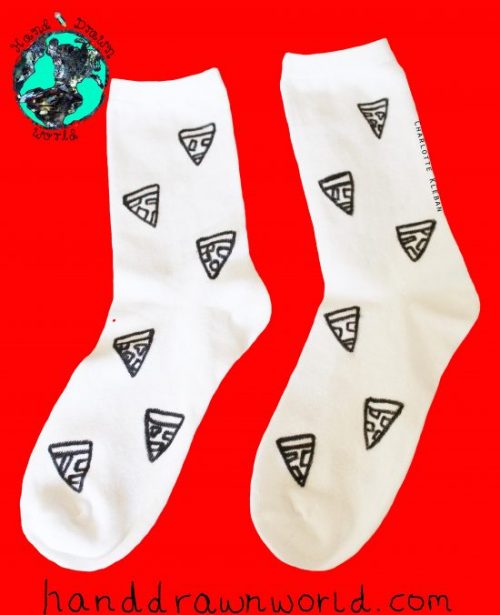 Chris on Etsy, 29 Dec, 2019  ~

5 out of 5 stars
Lovely socks, well made with a nice design. Thank you
MORE REVIEWS
SOCKS
Excellent! Socks are AMAZING, will buy again.  (cat socks)
La Tejana on Etsy
… lovely hand made socks …  (daisy socks)
Ian Seaton on Etsy
Timely arrival; cute socks. Couldn't ask for more.  (Pineapple socks)
Daniel Vinas on etsy
Great quality socks, not thin & cheap. Shipped quickly. Love them!   (Clouds socks)
Libby Hayworth-Lenne on Etsy
I had these socks made with little tornadoes. They really turned out cute. Thank you so much.  (Clouds socks)
Treasaw1057 on Etsy
These are really cute socks. My nephew is going to love them. Thank you  (Clouds socks)
Treasaw 1057 on Etsy
Arrived really quickly and exactly what I wanted in the colour I requested. Fantastic!   (Clouds socks)
Louise Newell on Etsy
Lovely, unique, comfortable socks.  (Music on black sock)
Scdring1 on Etsy
Another pair of great socks     (smiles on black sock)
Sonja Glass on Etsy
I love these socks xxx    (peace on black sock)
Sonja Glass on Etsy
5 star rating    (daisies on white sock   summer floral)
Courtney Pomroy on Etsy
5 star rating   (bananas on white sock   summer fruit design)
Scott Flaherty on Etsy
My stepfather-who is a musician-absolutely loved these!   (Music notes on white sock)
Romina D'Alessandro on Etsy
TEAPOTS
It's a lovely teapot, exactly as the picture shows. It was really carefully packed and a nice note and card with it. I would definitely from this person again.  (Ladybirds teapot)
Claire on Etsy
I was looking for an unusual gift for my bridesmaids so I ordered this for one of them as I know she likes a brew. Charlotte responded to my queries very promptly and was friendly and helpful. Delivery was very quick  … my bridesmaid loved her teapot! She loved the design and thought it was a fab gift. The finish is of high quality & a very cute design.   Be Nice teapot
Jenny Mitchell on Etsy
Hi Charlotte, I have just opened your package and I'm completely obsessed with the teapot! Its so perfect. And I was even wearing purple today! You are so sweet to send all the extra gifts too, I love them! The cherry pie card is so darling. Thank you so much.  (Feminist Teapot)
Censtone on Etsy
CARDS
Looks exactly like this picture! High quality paper/cardstock as well.   (Pizza card)
Kira Ball, Etsy
Absolutely lovely! Had contact with seller before purchasing & they were super friendly and accommodating. This card is so beautiful, I didn't even give it away! Lol, I might just put a little frame around it and hang it up! Love it.   (Pizza card)
Censtone 27 on Etsy
Quick delivery. Absolutely love the print and free matching card. Brightens up my kitchen.  (Ice cream card)
Samanthecousin99 on Etsy
Thanks I loved them!!! X      (pack of 6 cards)
Donnawareing1 on Etsy
If you have any questions about Charlotte's wonderful Hand Drawn products, please contact her here.
.
Please Follow Me On Social Media