Description
Rainbow Design Espresso Cups & Saucers Set
Wake Up & Smell The Coffee!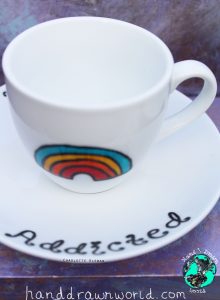 .
White Porcelain Espresso Cups & Saucers With A Rainbow Design
Set of two porcelain espresso cups and saucers with a different colour rainbow design on each cup … the perfect accessory to brighten up your kitchen on a rainy day.
This set would make a great gift idea as the saucer has an option to have the wording of your choice handwritten for no extra cost.   An example of what someone has chosen previously was the words "addicted" on the saucers, as their recipient loved their daily coffee fix!
Each design is uniquely hand drawn, so your set may vary slightly from the image but will be of the same design.
Occasionally depending on stock, the cups may vary slightly in shape (e.g. more square in shape that the rounded ones pictured), but will all be of the same material.
Customise Your Design
If you'd like to change the colours of the rainbows or if you'd like a custom made design of your choice or one of my designs which features on other items, please do get in touch when purchasing as I'd love to create something extra special for you.
Contact For More Information
If you would like more information about any of my products, please contact me, below. I would love to hear from you.
Thanks for stopping by! Charlotte 🙂
.
Please Follow Me On Social Media